PAX is the DADDY of CONS
For the second year in a row this author made it down south for the largest convention in the Southern hemisphere and the ONLY PAX outside of the US of A.  Boy was I in for a treat, that's not to say it wasn't without its occasional missteps but overall it was an incredible experience and one not to be missed if you have any interest in gaming, cosplay or simply having a damn good time.
Certainly if you came across this article you are in the target market for PAX, it encompasses all forms of gaming, streaming personalities and pretty much anything else in the geek world.  The only real big departure from other conventions in this country is the lack of Hollywood celebrities jammed in a booth for you to line up and pay to take photos standing next to them.
Personally that's not a drawback at all in my humble opinion as I've never been an autograph or 'selfie with the stars' photo hound and prefer a more organic back and forth with someone who inspires me, even if its as short and sweet as a question that makes them laugh or pause in thought at a Q and A panel.
There are plenty of those at PAX but they tend to be made up of Video game developers, the guys behind the Con itself and other creatives.  These were very popular, the Cyberpunk 2077 panels in particular.  One was run every day of the con and every single session was filled to capacity with what must have been hundreds turned away by enforcers, including this very writer.
The enforcers were nice enough about it but the MCEC doesn't mess around with fire codes and even squeezing in a handful of extra heads to stand up against the back wall in the main theatre was pushing it for security.  At least this year marked the first that the volunteers all became paid staff.
A recent decision by Reed Pop to – for the first time – engage their Enforcers as casual employees and pay them for their work was a great step forward to combating the level of underpayment and exploitation that is rife within the video game sector. I for one hope Reed Pop extends this arrangement to all the other conventions it operates in Australia such as OZ Comic Con and Playworld.  Who knows?  That kind of right on behaviour might shame Supanova and others into doing the same.
It begins
Over 80,000 video game lovers and tabletop gaming fans attended PAX AUS in Melbourne, making it the biggest turnout ever for the expo, now in its seventh year.
Friday kicked off with it making the news for all the wrong reasons however when an errant cosplayer with a slightly too realistic prop  got the cops storming his train in Melbourne early in the afternoon, echoing a similar incident with a Deadpool cosplayer in Sydney years ago.
C'mon guys, we've all made mistakes but as this sort of thing should have stopped happening a long time ago. Thankfully the rest of the weekend went by without a hitch, the boys in blue were often seen patrolling the halls but as far as we know there were no further incidents.
Saturday was the day to hit the stage if you wanted to see Cosplay at its finest, both Borderlands and Overwatch got their own dedicated time slots on the biggest stage of all in the main theatre, both were well attended and the cheers were huge for all the artists who were brave enough to get up and show off their latest work.
There was apparently a Mortal Kombat cosplay comp as well run in the main hall but there was nothing about it in the program and the only way I found out about it was from a Kano cosplayer.
I was unable to grab his photo as the first time I saw him he was in a rush to get to the comp and the second he didn't have all his costume with him and understandably declined to pose.  If anyone out there did get a shot we would love to see it!
As for the comps we did witness, the level of skill and passion displayed was epic, Guzzardi Art and Cosplay,  the winner of the Borderlands comp had their own working Claptrap robot which had a LOT to say and almost stole the show.
Alt F4 cosplay continued their amazing run after taking out the Australian Championships of Cosplay in Sydney by winning yet ANOTHER trip to the United States, this time to compete in the Blizzcon cosplay finals.
AltF4 wasn't alone this time though, she was accompanied by the steady hands of Ashleigh Laura Cosplay and Ursok Cosplay who helped craft the incredibly seamless costume and props she showed off so well on the big day.
They represented Victoria and winning on home turf against stiff competition from the likes of Scrap Shop Props, Vera Chimera and many more must have been a sweet victory indeed.
Jetting off soon to what is considered by some to be one of the Meccas of the cosplay world, Blizzcon in Anaheim, its going to be quite an adventure.  Whether she brings home more shiny trophies or not she will definitely hold her own amongst the greatest of them all.
Photo by @joshgroom
Speaking of Blizzard there was thankfully no real drama at the Warcraft Classic wall, which was more of a pin/stamp collecting point than any kind of booth.
Given the furore online recently around their recent decision to ban various Hearthstone players and seize then return their winnings for expressing their support for the protesters in Hong Kong it was a relief that no cosplayers or hapless Blizzard underlings were harassed by anyone less than impressed with the companies harsh stance.
While I and most others believe the decision by Blizzard was wrong headed it wouldn't be fair to take it out on the fans of their games, in the end cooler heads prevailed and all we heard from the 'booth' was that people just wanted their collectable pins and at the actual cosplay competition all the attention was on the incredible costumes, just as it should be.
The only big hole I could see in the cosplay calendar was zero competitions scheduled for the Sunday, usually EB Games hosts one but if they decided to focus on their merch store this year then it would have been nice to have at least one general open for all cosplay comp squeezed onto a stage somewhere.
There were plenty of spots for people to post in the lobby and surrounds and dozens of photographers snapping away at the talent on display but at least to me that's an obvious hole that could be filled as the demand is clearly there.
If you didn't catch the action on the one day cosplay was on a stage at least it was streamed live and is available on the PAX Twitch feed . Though be prepared to spend a bit of time searching through the hours of footage to find the particular show you want.
I mean its a free stream so you can't ask for too much but if some intern was given the task of chopping up the days events into manageable chunks without the hours of dead air in between them that would be pretty damn amazing.
Also the only streams available are from the Main theatre and Gamespot theatre, there was some great content from both for sure but you are missing out on interesting panels and hilarious entertainment from six other theatres, which for someone who is hungry to take in ALL the PAX action can be a little frustrating especially as even if you are there in person a lot of the panels overlap making it impossible to see everything.
Until the organisers learn how to build mini time machines or throw in a stream for every theatre you are faced with the difficult task of guessing which panel you NEED to see and which ones can fall by the wayside this year.
Still they did raise over forty thousand dollars for CureCancer with the help of Generozity , the constant ticker on the screen behind panellists updating the audience on how much was being added to the kitty actually enhanced the fun as most of the time the donation was accompanied by a cute little on topic reference that to be honest, wasn't always 'family friendly'.
Given that the Generozity team uses the hashtag #F*ckCancer liberally and it is such a good cause I think everyone was okay with that.
The laughs some of the tags got during the panel on 'Dating Sims'  were some of the biggest I heard of the con, I guess there is a Beavis and Butthead hiding in all of us somewhere. That panel headed up by an all female cast was a true classic as they pushed on through one of the weirdest video games of all time.
A roleplaying lite game in which you play an earnest young chef attending a three day course at a culinary school where you meet the potential love of your life…Colonel Sanders.  Yes, thats right, the mascot for a fried chicken chain.
Of course they de-aged him and made him look like an anime heart throb but the uniform and white goatee were unmistakable. The panel even managed to find a friendly Colonel in the crowd cosplaying the man himself and brought him up to voice his lines.
Some of the other panels enticed you with titles such as "How they made sounds in Call of Duty", "Best kisses in gaming history" ,"Best dogs in gaming " and Which Video Game Cryptid Would Make The Best Lover?"  I for one think that the Lizard Man of Scape Ore Swamp would deliver a night to remember.
The crowd participation was lively and really made you feel like you were hanging out with a bunch of old friends, if you didn't crack a smile in that panel then check your pulse.  The same goes for all the panels I attended, the speakers were knowledgeable, funny and willing to engage with anyone who wanted to grab a mic and jump into the fray.
The live Dungeons and Dragons sessions were fascinating to watch and hundreds sat enthralled as Tycho/Jerry (the man behind the con) and friends navigated their way through various adventures in a bid to survive the worst a cult of the Cthulhu could throw at them amongst other foes.
You could also of course sit down at a table of your choice in the main hall and throw some dice into the mix, you name the game, miniatures, cyberpunk and all the usual suspects were on offer. Thousands found themselves at one table or another and played well into the night with Saturday seeing the doors closing as late as midnight!
Those down for a more videogamey time were spoilt for choice with speed running stages, Esports championships, console and PC freeplay areas, VR freeplay and a retro gaming area full of pinball machines and consoles from every era.
I was tackled as soon as I entered the walled off retro area and signed up to a gaming comp to see who could get the highest score on an ancient game called Downfall.
No, not the German film about the rise and fall of Adolf Hitler, the platformer thats more frustrating and brutal than even the hardest level on Dark Souls.  Here is the winner looking very pleased about beating everyone else by ten thousand points.
If you're finding it hard to keep up with all the options then try and have some sympathy for those of us who were there were of an indecisive bent, do we go chill out on cushions in the lobby with dozens of others in a mass Nintendo Switch multiplayer game?
Go upstairs and makes some new friends in the diversity lounge?
Or wander outside down to Bethesda lane which was lined with themed bars?
Worth checking out alone for the loot give away's and custom menus but of course your right on the Yarra river so the view is pretty easy on the eye too.
With all that going on it was essential to pick up the free program guide full of quirky humour and important tips.  The spreadsheet timetable pages showing you all the panels, shows and comps was my go to section but it was a lot more readable than any other con guide I've come across.
Anyone really keen would also download the app to dive deep into the meaning behind some of the more cryptic panel names.
One was simply titled 'Click' and given the large queues waiting outside I just had to know what it was all about , not one of the five enforcers I asked had a clue even though they were marshalling the fans themselves so onto the app I went.
Apparently there is a fifteen million dollar mansion in Sydney populated by five celebrity gaming streamers  and their fanbase is dedicated, passionate and massive.  The more you know.
Speaking of lines, there were a lot of them, some enthusiasts reported waiting over an hour and a half just to get into the PAX merchandise store to buy an officially emblazoned jersey.
I mean, I am relatively new to the whole thing and quickly falling in love with it all but that is a level of devotion I'm not sure I'll ever reach.
The same people were probably part of the giant crowds herded into the entrance lobby on Saturday morning and forced to wait hours before their section was finally allowed in.
Now its always going to be a big challenge to manage an event this popular, even with the MCEC being the largest exhibition space in Australia, and one of the largest exhibition spaces in the southern hemisphere it struggled to deal with the numbers.
If interest is increasing in PAX, I think it might be worth experimenting with having to buy tickets earlier and competitively (like the San Diego Comic Con) than play queue simulator: sardine edition all day. That said once you were inside and if you avoided the lines for the early release video game screenings it was fairly easy to enjoy most of the convention without spending most of it waiting for your turn.
One area where you never had to wait long for a controller to end up in your hands was PAX Rising, a spot right up the front where indie developers were given a chance to showcase their work.  Some of the booths were just a screen and some flyers while others were almost corporate level quality with giant professional layouts and colour schemes, free buttons and eager volunteers waiting to pounce and tell you about the game with all the zeal of a Jehovahs witness first thing on Sunday morning.
I for one enjoyed everything I touched and many of the developers said the play testing and feedback they got over the three days from all the gamers trying to complete or even break their offerings was going to be taken back to the office and studied so they can improve and refine the end product.
A personal favourite was the look and feel of  'Dead Static' which the studio itself describes as as 'Grand Theft Cthulhu', its been around for a while with development beginning in 2016 but it finally hits Steam next year and I can't wait to drift through the spooky streets and unravel the mystery held within.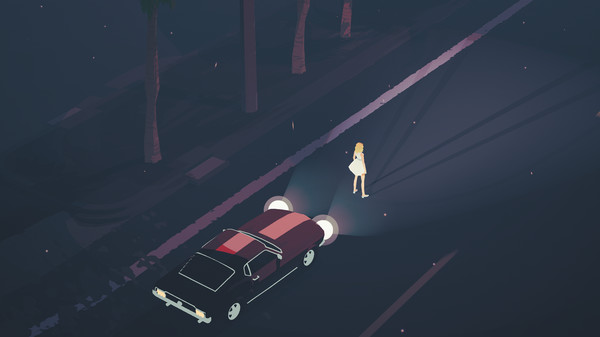 Not everyone was as enthused as myself about the content on display though, one congoer shared this insight
"The number of games that have been there year after year (I'm looking at your Necrobarista) and still aren't released…
I can't help but feel like if you're not in a position to capitalise on the Pax crowd (by means of selling games or signing up for beta etc) then maybe you should be at home developing.
It's been super disappointing. I'm not interested in games which won't be released until 2021 and beyond."
While I can agree its frustrating to find out something like the Australian version of an old Fallout game titled 'Broken Roads" won't be available till 2021 its common for films to release trailers years before their release and as mentioned earlier, the more feedback they get during development the better the end result will be.   As long as it doesn't become borderline vaporware like Duke Nukem then bring on all the teasers!
Well, we wait an entire year with baited breath and then BAM its over in what seems like hours but somehow that was three entire days and at least one full night (good luck finding another convention that lets you loiter its halls till the witching hour comes).
It's been a week now since I drove back up the Hume to Sydney and I'm already pining for the dates to drop for the 2020 PAX.  One thing I know is that its going to be as huge as ever and that come what may, Beyond Cosplay will be there.
Many of us walk around in shells of compromise which represent who we are to the world instead of actually doing what we want and being who we are, PAX is one of those few special times and places that let us bring out our inner warlock, space commando, demon hunter or whatever our imagination steers us towards.
Do we get strange looks, lecherous remarks or outright bullying?  No, its just pure appreciation and respect for all the hard work we put into bringing out that inner self.
Try it sometime, you wont look back.
Thanks to Mumei and Ampersandy for some of the media used in the article.